Getting the Basics Right with Navy Blue Bridesmaid Dresses
All ladies dream of not just wedding but memorable ones.  The kind of weddings that will remain etched in people's heads for years. Unfortunately, all these remain but fantasies and mirages. Reality steps in and before you know it, you have financial commitments that cannot make that cherished dream see the light of the day.  You therefore rush things, go for simple but classic silhouettes and whimsical designs complete with clean lines and just walk down the aisle!  If for one reason or another is not your story, count yourself lucky. You have a chance to make it glamorous with navy blue bridesmaid dresses.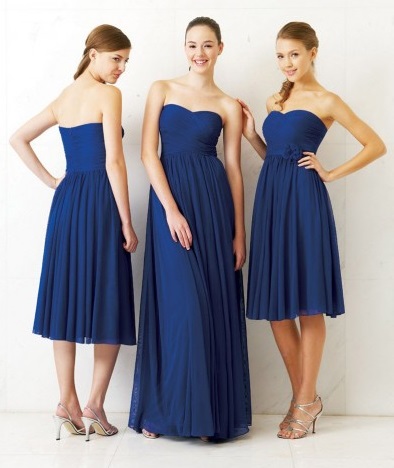 Why Navy Blue?
Blue is one color that has always and will always turn heads at weddings.  The reason is simple. People play it safe and go for common, girly colors like pink and yellow.  Going against the grain and choosing a navy blue dress will therefore give you an upper hand and have people wincing with their eyebrows raised. That aside, navy blue blends well with different skin tones. It also balances everything else, which marriage is all about; balancing things and striking compromises.  What's more, it gives a palpable sense of dependability, confidence and trust.  Your choice should therefore give your prospective lifetime partner more reasons to fall in love with you.
Observe the Basics
It happens a lot; one bridesmaid has a knee length dress, the other has a long one. One has a bare back, the other has a full back and worse still, one has long sleeved dress, the other has a short sleeved one.  There has to be consistency. Make prior arrangements and ensure nothing goes amiss. Consider simple yet elegant designs like:
Separates. This is perhaps the best designs to go for when on budget. It actually has very little to do with designs as you let your bridesmaid choose separate designs that complement their figures. All you need to do is tell them of the red lines they should keep off and where to shop for your desired navy blue bridesmaid dresses.
Gathered chiffon. Chiffon can be very revealing but at the same time stand out as flattering.  Try navy blue junior bridesmaid dresses with these designs and you certainly won't go wrong. Just gather a decent amount of lining that will not reveal too much skin. Chiffon is also supper during summer as it never clings to the body but skims. That said, go for the unpopular but breathtaking wrapped chiffon bodice design.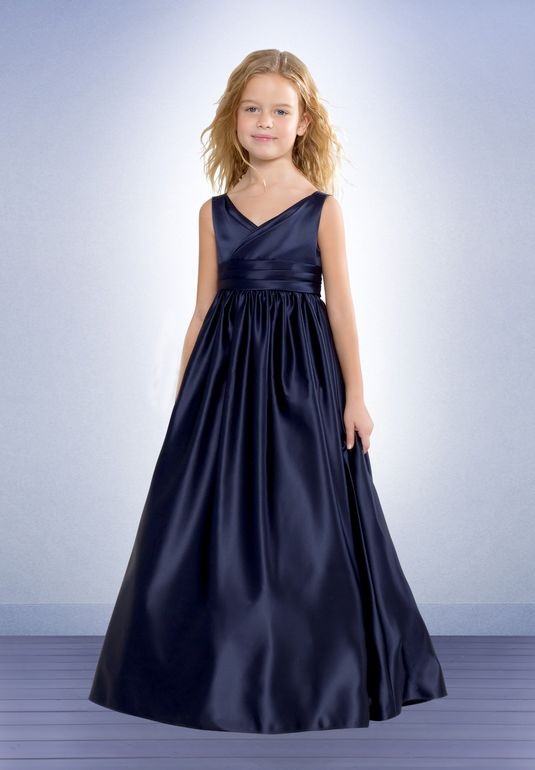 Halter. Halter necklines are just awesome. It fits and complements flat-chested ladies as well as their busty counterparts. It is also ideal for both short and tall women, which make it popular. That is in fact why most cheap navy blue bridesmaid dresses feature halter necklines.
A-Line. It is impossible to find any woman under the sun who does not look good in an A line bridesmaid dress.  It is however much more ideal for slim women. There are lots of short navy blue bridesmaid dresses with A lines just as there are long navy blue dresses, so take your time to find one that will bring out the best in you.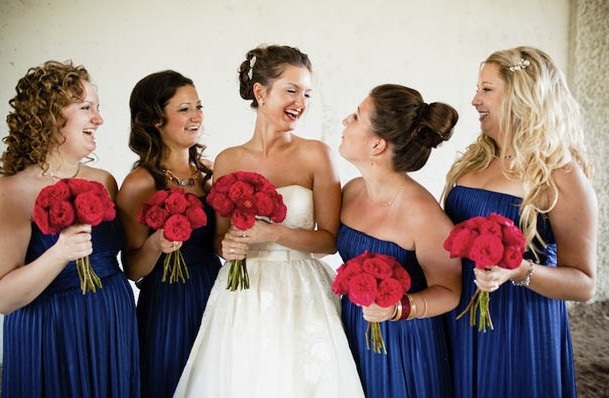 Conclusion
It is your big day, so make sure everything is perfect; from the navy blue bridesmaid dresses your friends will wear to the gown you will boast of.  Then keep in mind that silver jewelry blend with navy blue bridesmaid dresses really well. Same case applies to diamonds, so go for either if you budget allows.  Check on the shoes the bridesmaid will wear too and ensure they complement the dresses.