Navy Blue Dress – Different Types, Accessorizing and Care Tips
No matter what kind of occasion a woman may go to, they always make it a fact to look the best that they could without sacrificing style and comfort. A lot of times they naturally want to stand out from the crowd and show the world how wonderful their dresses look. This is one of the reasons why a lot of women love trying a variety of dress styles and colors to find the exact one that are hoping for. Other times they fancy experimenting on their outfits and see the outcome of their own attempts to unique creations. In these kind of times, a navy blue dress would totally make their day, especially when they wish to mix and match different kinds of accessories.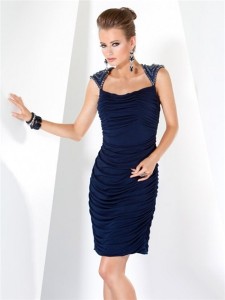 Navy blue colored dresses stand out from all other dress colors and even with other shades of blue because of the different vibe that it brings to the person wearing it. No matter what kind of occasion a person wearing a navy blue dress would go to, it would always present the person wearing it with simplicity and elegance, which a lot of people know is kind of hard to achieve at the same time.
Where to Wear One
So what are some of the events that a woman could go to wearing a navy blue colored outfit? Here are a few examples of such occasions that would be perfect for wearing a dress with the navy blue color.
Cocktail parties are the kind of events that would require people to wear a semi-formal outfit like suits and jeans for men and short dresses for women. In these types of occasions a nice navy blue cocktail dress would surely stand out in the event. Depending on the nature of the event and adding in the weather factor, there are virtually hundreds of different dress designs and ideas that women can follow through when it comes to wearing their navy blue colored cocktail dresses. A nice laid back dress with neutral colored accessories is perfect for those who want to keep it simple yet classy. For those who wanted to bear a little a beautiful navy blue strapless dress with laces or ribbon designs would absolutely kill it. Others could also choose to wear a navy blue one shoulder dress to give a sexy yet laid back type of appearance.
Other occasions however, requires a more formal type of dress and a little more attention to details. Corporate events and other similar activities would require women to wear a long navy blue dress to match up to the occasion. Like short dresses, long navy blue colored dresses also has a wide variety of styles to offer women of all ages. Popular among female celebrities going to formal events with long navy blue outfits are those with long slits on one side of the dress to showcase the person's beautiful thighs and legs. Others would also go for a navy blue maxi dress with an extended V line to add a sexy factor to the dress and to the person wearing it as well. While these may be some of the most sought after type of long dresses today, there are still other people who would go for the simple yet elegant traditional design for dresses or the sexy strapless or backless type of long, navy blue colored dresses.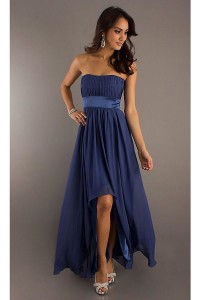 Accessories
Another thing that a lot of women put into serious consideration, when deciding to have a navy blue dress or any dress color at all for a certain occasion, is the kind of accessories that will be worn with the dress itself. To some it may be as simple as tying their shoelaces, but some people will still get all panicky with just the thought about the accessories to use with their navy blue semi-formal or formal wear. To those people who are still facing this kind of dilemma, here are a couple of tips that would be good to follow.
To those people who would want to keep it simple, choosing neutral colored accessories would be the best way to go. As navy blue is already a dominant color, having neutral colored accessories would perfectly fit the person wearing it like pear earrings and pearl necklace. Gold colored accessories also works perfectly with the navy blue colored dress. If a person wearing it would want to wear a belt to emphasize the sexy figure, a nice gold colored belt would do the trick. The same thing goes for bracelets. One can either choose to have a neutral colored bracelet or a gold color one. But as always, with accessorizing a navy blue colored dress, the possibilities stretch to an endless list.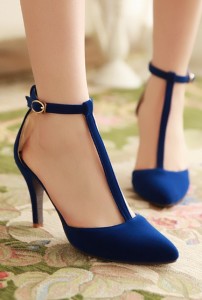 Footwear
When it comes to the footwear worn by people who wears a navy blue dress, there are actually a lot of different styles that they can choose from. Here are some options that you can consider wearing:
From the typical high heeled closed shoes, nude kicks to navy blue dress sandals, there will always be a good pair of footwear that would suit a navy blue colored dress perfectly.

For starters, one can choose to go for blue shoes or sandals as well for uniformity. To a little speck of style, one can have a navy blue colored sandal with gold ribbons or laces around it.

To those who can't seem to make up their mind about what kind of sandals or shoes to wear, they can choose to go for silver themed sandals or those diamond shoes along with the navy blue outfit. As long as the comfort is not compromised, any color or type of footwear would be perfect, especially when a person is wearing a long gown in which the shoes are rarely seen.

For those who wear navy blue short cocktail dresses, they can choose to go and match the shoe color with their accessories for a little sense of uniformity.

For everyone's convenience, when purchasing a navy blue colored dress for a certain occasion, one can go to a store that sells footwear and accessories as well. That way the person buying the clothing can easily match accessories and footwear with the dress immediately, saving valuable time.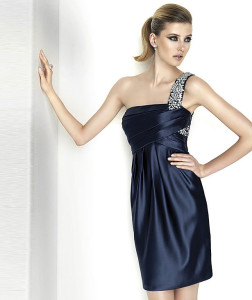 Easy Care Tips
Even these lovely navy blue colored dresses can also be subject for damage if not taken care of properly. And because dresses in particular are mostly made out of delicate fibers, they tend to need special attention when it comes to cleaning and washing. When on a party and the dress gets a drop of food stain, one must remember not to rub the area but instead to rub it immediately with seltzer or ice water to remove it.
Because of its color, these navy blue colored dresses should not be mixed with light colored clothing as well as not to wash it with bleach to prevent discoloration to the navy blue clothing itself as well as the light colored ones. When choosing to go for machine wash, one must set it on gentle wash only to prevent damage to the fabric. After washing, it is better to let the dress hang dry naturally than to expose it to the dryer because it can also lead to fabric damage.