Every Woman's Must Have: The Black Romper
The black romper has taken over mainstream fashion by storm just like any other types of dresses like navy blue dress – from the runways of Paris to the streets of Vegas to the red carpets of Hollywood. These fashion savvy one-piece ensembles are just as simple as they are intricate and varying on the designs, they can go from office/business suit formal to dinner date fancy to easy-breezy beach-stroll ready, and rompers have redefined the work wear overalls appeal of ladies' jumpsuits.
Popular Styles
To the uninitiated, a black romper jumpsuit will look basically the same: a one-piece thing where a fancy-looking top is connected to the fancy-looking bottom. It's almost true, but not quite. Rompers, being the highly fashionably items that they are, come in a variety of styles on tops and bottoms that could only spell couture.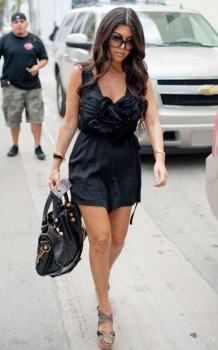 Here are some of the most popular styles that a black romper could come in and they may come in a variety of combination of tops and bottoms:
Surplice top on draping long bottoms – this is high fashion at its best. The wrap around surplice works perfectly well on the bottoms, giving it a long-gown appeal especially if it comes in a silky type of cloth. A strappy pair of the same shade of jet black for shoes would complete the look.
Utility top on fitted pants – compared to the elitist look of the one above, this black romper style has an easygoing look. Sleeveless and with banded necklines, this looks best with a drawstring waist. It could also look good with capris for bottoms. They look good paired with some jeweled flat sandals in silver, black or even gold.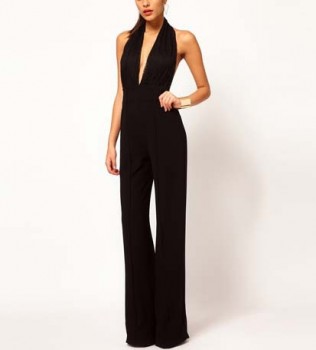 Black strapless romper shorts – the real easy-breezy, a simple tube top with a drawstring waistband and some shorts a few inches above the knee would be the perfect city-stroll daytime look to a girl's night out perfection. This is where accessorizing will never go wrong, with the bare neckline; you can go all out on the collar-type necklaces with the large stones, and/or bangles galore. For a daytime-friendly look, a pair of doll shoes would be best. For a night out with friends, a glittering black sky-high pump or some bejeweled wedges would complete the look.
Ruffled Venus top on black romper shorts – the ruffles on Venus cut give this type of black romper a very feminine, delicate look. Having a one-shoulder cut, it could be sleeveless or have a draping sleeve. The shorts even out its being delicate. A pair of platforms in silver or black and some big hoop earrings would complete the look.
Halter top on shorts or maxi pants – sexy, classic, and a beautiful modern, Marilyn Monroe-esque take on the black rompers, this revealing backless design gives a different look depending on the bottoms. As romper shorts, they'd look fresh and summery though they're black. A pair of hoops earrings, a tan and some white wedge flip flops would give a beach night out a very classy meaning. As with maxi pants and some wrap around bow belt plus some pointed black stilettos, it will make an opera-night or art exhibit-ready outfit.
Top Brands
Because the black rompers are here, there, and everywhere, many of today's top brands carry out their own styles and versions of these high fashion outfits. Here are some of them: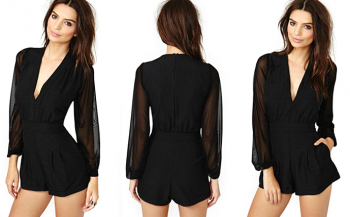 White House
Baby Phat
Mossimo
Gap
South Pole
Juicy Couture
Black romper comes in various styles but each style brings out the beauty of a woman's figure. A black strapless romper is just as sexy as some black romper shorts and a woman always looks just as feminine – graceful, gorgeous, stunning. This highly fashionable outfit has been worn by female celebrities and ordinary women alike.