Tips to Look Like a Princess in a Navy Blue Prom Dress
It would be hard to imagine a lady's wardrobe without a prom dress. It therefore makes perfect sense to know the basics when it comes to choosing the right prom dress color as well as design.  It sounds simple but a close look reveals otherwise.  Choosing the right design calls for attention to detail in regard to your body shape and other subtle yet important factors like one's skin stone. That is where navy blue prom dresses come into the picture.
Easy To Blend
Navy blue is one of those colors that hardly give one a hard time. As a matter of fact, you can wear a navy blue prom dress, a navy blue ribbon or scarf and navy blue high heels and look cool. The same cannot be said of black, as people will assume you are mourning or red, which will only call for attention and remain a preserve for Valentine's Day.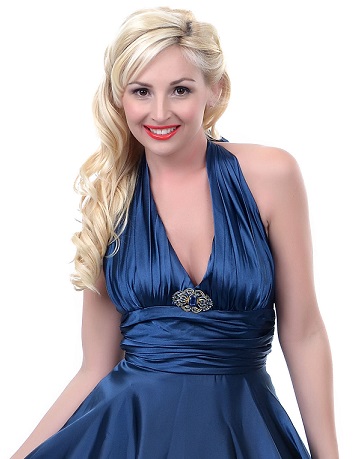 Jewelry
Don't beat yourself over what to complement your navy blue dress with. You can choose not to wear anything and still look good.  Your best bet should however be silver or diamond.  Just don't overdo it. Remember that looking good in a prom dress calls for simplicity which oft times wins over sophistication. That being said, you must go for that diamond pendant and silver ring. Add a ribbon, let your hair fall back or even tie it in a pony. Finish the look with elegant high heels and wait for men to start ogling.
Designs
It always boils down to one simple and common constant aggregate; go for a flattery design that brings out the best in you. if for one reason or another you are dumfounded, stick to an A line design. It won't reveal too much and will still manage to make you look awesome. If on the other hand you want to explore other navy blue prom dresses designs, try the less popular halter designs which can even accommodate a convertible brassier.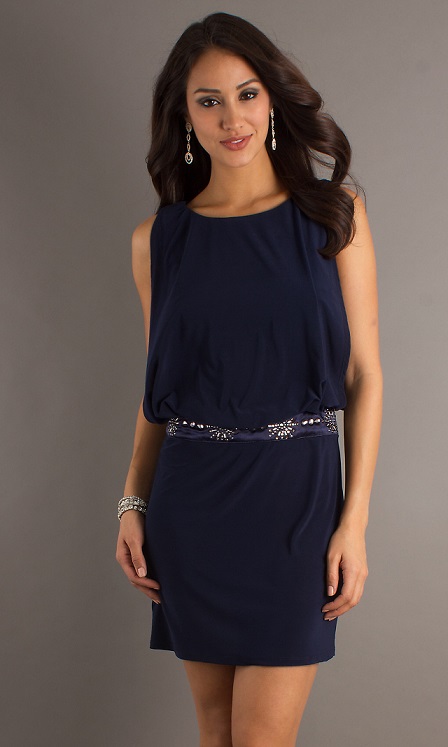 The Don'ts
Keep off fancy tights. They don't go well with navy blue prom dresses. Unless it is winter, where you just can't do without a pair, they are just a big no. do keep in mind that even for the more acceptable tights, only a handful will make you look charming. The best you can do to beat the cold is may be wear a pair of stockings and try a long prom dress that won't show your legs.
Shoes
Most long navy blue dresses go well with medium heels, so make sure you have a pair or two of low heels. They can be navy blue as already hinted or black. In other words, stick to dark shoe colors.  As of short navy blue prom dresses, high heels seem to be the best solution. You can, however, try wedges if you don't fancy high heels.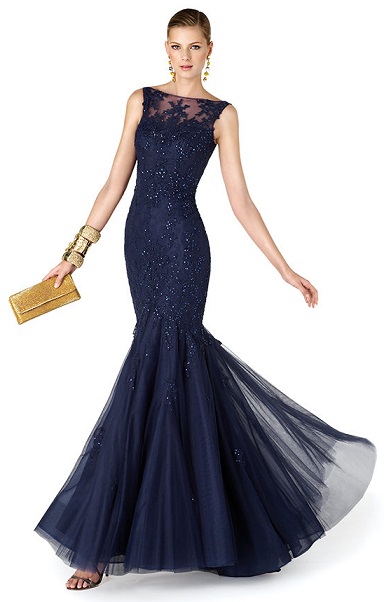 Conclusion
It is easy to look good in navy blue prom dresses. All you need to do is go for a design that will make you comfortable. You can then complete the look with good shoes.  It is also easy to save an extra dollar or two as there are several cheap navy blue prom dresses on sale both online and offline.