The Allure of the Denim Dress
Denim has been in existence for close to a century but has always been more associated to trousers. However, over the past few years clothing companies decided to go all out and incorporate the material in the world of dresses, skirts, maxis, body cons and all things girly, due to the versatile nature of denim making the denim dress an instant hit in the fashion world for years now!
Denim dresses can bring out the femininity and loveliness in you, especially when worn stylishly. However, if you are unaware as to how exactly to do so, chances are, you might end up looking bulky and unattractive. You don't want this to happen, do you? So, gear up because this article will give you tips on how to dress up the denim way.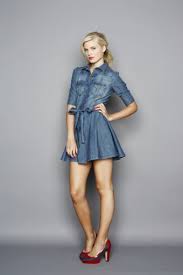 Femininity in Denim
While the denim dress was previously associated with muscles and testosterone, over the years it has evolved and can now be found in trendy dresses. Long or short, baggy or body hugging, this is the outfit that will not miss in any informal gathering or a casual day. A denim dress can be rocked in any weather be it sunny or cold, as the denim material remains comfortable and warm enough without turning on the "sweat glands sprinklers". Denim dresses are also sophisticated and add an edgy look to any outfit. Many A-list celebrities like Katie Holmes, Julienne Hough and Anne Hathaway have been spotted in this fresh trend.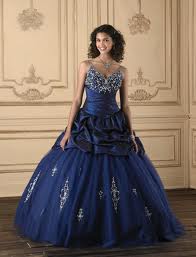 Blue Is the Colour of Denim
The denim navy blue dress is a constant 'hot trend'. It has a classier look compared to other shades of blue denim that appear somewhat faded. A denim dress in this shade of blue is flattering to all body types, all skin colours and tones. You can rarely go wrong with a navy blue denim dress. A navy blue denim dress is also easier to keep clean and have better stain resistance compared to other colours and materials.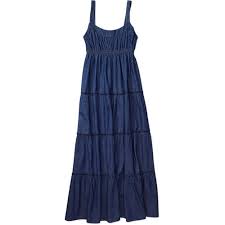 Maxi in Denim
Make a bold statement by showing up in a denim maxi dress. This will be found mostly in the light kind of denim fabrics so do not fret, as the material will be easy and comfortable enough to walk in. This outfit would be best suited for a picnic or a day out with family or friends; paired up with the perfect sandals and minimum accessories, this dress is bound to be a winner.
The Classic Denim Overall Dress
Women's denim overall dress is chic and trendy, not to mention classic.  They are comfortable to be in and simple to pull off. This girly outfit paired up with a nice t-shirt underneath it, can only be described as "devilishly cute". Short, knee-length or floor length, this dress can be rocked with any kind of shoes ranging from wedges to simple boyish canvases.

Girly Tunic in Denim
The denim tunic dress can, to an extent, be described as the gorgeous version of denims. Paired up with beautiful heels or boots and a matching slim belt, you have an outfit that will be the envy of all. It is just simply simple and easy to work whenever and wherever. This look should be paired up with few accessories to control that casual easy going look that only denim can maintain.
Conclusion
Denim is regarded by many in the fashion industry as the most casual fabric in existence.  Yet this casual denim is also regarded as being trendy and versatile. The allure of the denim dress can be found in how comfortable the material is, and how easy it is to look 'chic' in denim dresses!